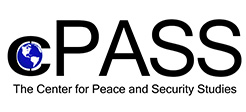 The objective of Center for Peace and Security Studies (cPASS) is to serve as a bridge to unite the efforts of existing peace scholarship at UCSD and to develop new, externally funded research that applies cutting-edge social science to improve our collective understanding of how humans can best cooperate on an increasingly congested planet.  The core of this effort will be in the Division of Social Sciences (DSS), but cPASS also welcomes broader collaborations. cPASS combines the efforts of peace and conflict researchers from different specialties, departments and institutions.
cPASS consolidates several related strands of ongoing research around the intersection of peace, international security, and advanced technologies. These include increasingly complicated conceptual and empirical areas like cyber security, weapons of mass destruction, and intelligence derived from big data. This research also includes emerging methodological fields like machine learning that handle large and unstructured data sources like natural text, imagery, and linked open data.
The core team represented by cPASS has already become one of the leading sources of insight about the emerging logic of cyberwar and military automation.  The team consists of acknowledged experts on new forms of deterrence (cross-domain deterrence).  cPASS experts are developing new data and computer-based technologies for inductive analysis of crises and conflict.  They have expertise in the forecasting of nuclear proliferation and nuclear security. The team also has a unique understanding of and modeling ability in the study of large alliance structures and the sources of extended deterrence success or failure.  Future research will focus on a richer understanding of positive peace and assurance, and on the signaling role of different kinds of deterrent threats.